Welcome to the Eromanga-Sensei Wiki
Edit
This Wiki is about the novel Eromanga Sensei on April 09, 2017 (English Sub) and July 02, 2018 (English Dub)
If you choose to upload photo's, remember to put them under the "fair use clause"
Spoiler warning!
This Wiki will have Spoilers. Read at your own risk.
Information from the novels take precedence over other media.
About the Series
Eromanga-Sensei revolves around Izumi Masamune, a light novel author in high school, who lives alone with his little sister Sagiri, a shut-in girl who hasn't left her room for an entire year. Her shut in habits are so bad, she even forces her brother to make and bring her meals when she stomps the floor. Masamune wants his sister to leave her room and interact, because the two of them are each other's only family.
Masamune's novel illustrator, pen name "Ero Manga Sensei," draws extremely perverted drawings, and is very reliable. Masamune had never met his illustrator, and figured he was just a disgusting, perverted otaku. However, the truth is revealed. His illustrator, "Ero Manga Sensei" is his own younger sister! To add to the chaos that erupts between the siblings, a beautiful, female best-selling author becomes their rival!
(Source - ANN)
The Heroine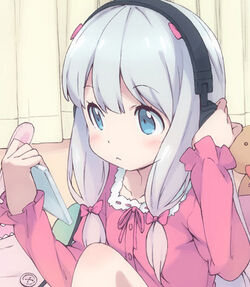 Izumi Sagiri is the shut-in younger step-sister to the protagonist Izumi Masamune and also the famous illustrator Eromanga-Sensei, who is well known for her erotic drawings, though few know her true identity. While she seems innocent, she is surprisingly perverted.
Read more about the her here.
In the News
[September 26, 2017] In response to an anonymous visitor, I have added the ability to add French voice actors and actresses to the character infobox. If you know the name of any of the voice actors or actresses, please add them. References are greatly appreciated. Also, if you are editing articles using a guest account, I encourage you to create a FANDOM account and officially joining the Wiki. [September 8, 2017]
Should the Wiki use Talk Pages or Article Comments?
[August 20, 2017] Blu-Ray and DVD availability: Aniplex (Japan) has Eromanga-sensei available on Blu-Ray and DVD. Each disk covers two episodes of the anime. Unfortunately, I do not know if these disks are subtitled or not. The information on the disks can be found here. The first two disks are available now. The remaining disks will be released on August 23, September 27, October 25, and November 22.
Ad blocker interference detected!
Wikia is a free-to-use site that makes money from advertising. We have a modified experience for viewers using ad blockers

Wikia is not accessible if you've made further modifications. Remove the custom ad blocker rule(s) and the page will load as expected.